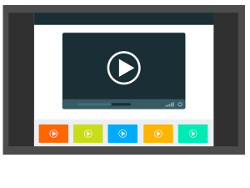 The advances in technology make it easier for people to, now more than ever, share images and photos as well as video and audio files. However, whether they are collected through surveys, ethnography studies, or social media, the interpretation of these digital files is dependent on the talent and knowledge of the coders.
How It's Done
There are no automated analytical tools to accurately interpret and summarize these types of digital files. They must be individually reviewed, studied, and interpreted.
Image, video, and audio files can be coded in much the same way as verbatim comments. Nuance coders listen to the audio, watch the video, or view the images to create the codeframe and analyze the results in light of project objectives.
Key Issues
When coding digital files, a clear focus on the key issues is imperative. What is the question to be answered? Is it to understand an action, facial expression, or emotion from video or audio files, code a list of items or objects in an image, or perhaps compare before-and-after photos? Whatever the type of file, having a discussion on how the data will be used and what is hoped to be accomplished is paramount.
Our Staff
Nuance can be your partner in coding verbatim comments as well as images, videos, photos, and audio. Nuance has the staff, software, systems, and tools needed to do this type of coding accurately and efficiently. Let us put our 30 years of experience to work for you.